Artist's statement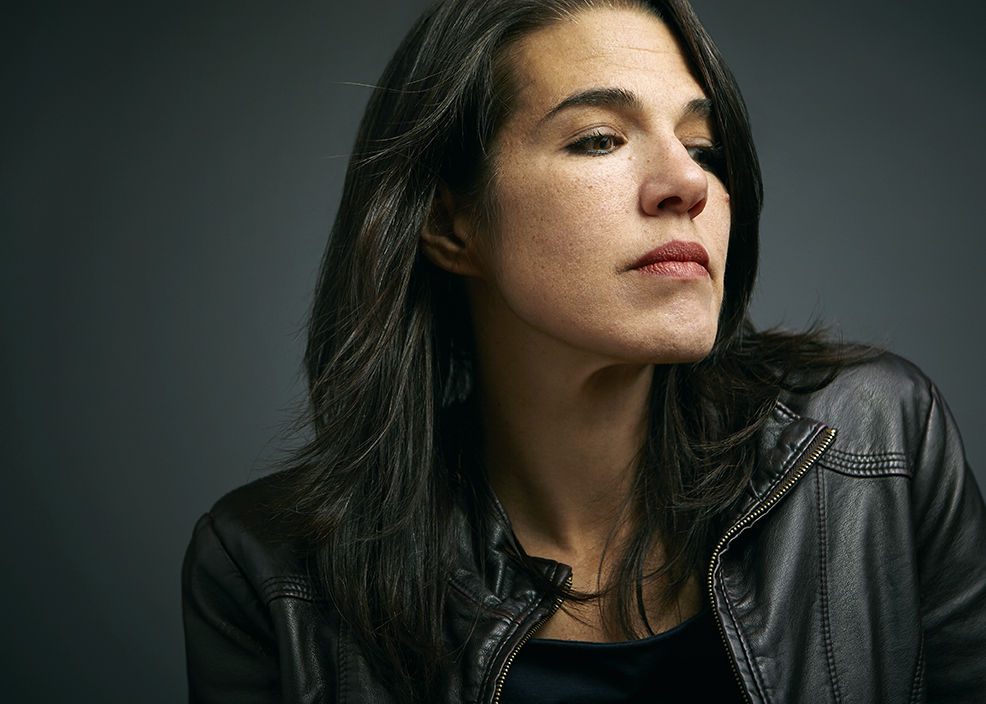 Susan Clinard. Photo by Lotta Studio
Over several decades, I have honed a mature personal style across a variety of sculptural media. Whether I am sculpting from life in clay, bending wire, or carving wood, I strive to reveal nature's truths – the duality of chaos against perfect symmetry. I am a contemporary figurative sculptor most concerned with honesty. Staying honest to myself, to the process of creation, to my materials, and staying honest to the subject matter in which I choose.
My work is an exploration of nature's forms, distorted and perfect, found and inspired. It is simply art reflective of life which contains the ugly and the beautiful without interruption.
Short Bio
Susan first touched clay at age 19. She recalls the immediate sensory connection she made with the material; the smell, its texture and shadows. Her love for art did not begin there. As a child she was always drawing and making "things" and for as far back as she remembers she was a fervent observer of life.
Following a degree in Sculpture and Cultural Anthropology from the University of Michigan, Susan moved to Chicago in 1995 where her gift for storytelling took root. While exhibiting her art at multiple venues throughout the city Susan also taught stone carving at the School of the Art Institute of Chicago, sculpture at the Palette and Chisel Academy, and Gallery 37.
For much of her career, Susan has been exploring a wide range of mediums. The majority of her work throughout the last twenty years has incorporated found objects such as driftwood, photographs, tools, weavings and industrial wood patterns. These objects combined with figurative fragments allow Susan to explore themes of our shared and complex humanity.
In 2007 Susan and her family moved to Connecticut where she is currently busy making art for various gallery exhibitions as well as public and private commissions. She has also been the artist in Residence at the Eli Whitney Museum for the last five years. Her sculptures can be found in galleries, in public parks, and in collections worldwide.
"The soulful essence that infuses each of Clinard's figurative pieces also binds them as a collection. Her deftness with three-dimensional materials, empathic nature and strong propensity for revealing the human condition is part of what makes her a 21st century master sculptor." New Haven Independent 2016
"There is something intense yet poetic in the sensibilities of Clinard's art work. Amidst today's plethora of art, she manages to say something very different. There is a clear luminosity to her work that is contemporary, yet incredibly timeless… her aesthetic places you in an artistic territory that creates a dialogue, causing viewers to stop in their tracks." ART PLATFORM NYC 2014
"Moving work. Archetypal. Sad but transcendent. So much art seems to aim at experimentation, decoration and charm. Clinard's feels much deeper." Christensen. Imagine Project, 2014
"There is something ineffably brave about Clinard's boat pieces. These people seem filled with holiness and purpose and to be capable of mitigating evil." Barry Lopez, author 2014
"Clinard crafts wonderfully evocative works that seem to exist at some mysterious junction between the world of the spirit and that of reality." New Haven Register 2011
"It is very rare to see realistic sculpture that is so honest, masterful and contemporary." Budzik 2012
"The passion that inhabits her art at times seems to echo the gravitas and spirit of 19th century French sculptor Auguste Rodin,(her work) evokes deep spirituality-a hallmark of Clinard's sculptural work." Sepulveda 2013
Susan Clinard. Photo by Lotta Studio
Selected solo and two person exhibitions
| | |
| --- | --- |
| 2019 | Places We've Been, Yale University Whitney Humanity Center, New Haven, CT |
| 2018 | Silvermine Art Gallery, New Canaan, CT |
| 2018 | Dedee Shattuck Gallery, Westport, MA |
| 2018 | Undercurrents: Revisited, Potter Gallery, Simsbury, CT |
| 2017 | Junc·ture. Keator Gallery, New Haven, CT |
| 2017 | Time Will Tell, The Kohn-Joseloff Gallery, Cheshire, CT |
| 2016 | Navigating the Human Landscape, Marie L. Trichet Gallery Wisdom House, Litchfield, CT |
| 2016 | Filtering Noise, DaSilva Gallery, New Haven, CT |
| 2015 | Yale University, Jonathan Edwards College Gallery, New Haven, CT |
| 2015 | Spaces In between, Artifact Gallery, New York,NY |
| 2014 | Distances, Theater Works Gallery, Hartford, CT |
| 2014 | At the Corner of Spirit and Reality, Trinity, New Haven, CT |
| 2014 | Threads of Serendipity, Kehler Liddell Gallery, New Haven, CT |
| 2013 | Undercurrents, Mary C. Daly, RSM Art Gallery, Madison, CT |
| 2012 | Reflections of Place, Kehler Liddell Gallery, New Haven, CT |
| 2011 | Spaces, Chicago Art Matrix Gallery, Chicago |
| 2011 | New Works, Kehler Liddell Gallery, New Haven |
| 2010 | Turning Wheel, University of New Haven, Seton Gallery, New Haven |
| 2009 | Vessels and Compartments, Chicago Art Matrix Gallery, Chicago |
| 2009 | Paper Wood and Bone, Kehler Liddell Gallery, New Haven |
| 2008 | Untitled, Palais de l'Europe, Menton, France |
| 2008 | Life's Spectrum, Riverstreet Gallery, New Haven |
| 2008 | A Collection, New Haven Lawn Club Gallery, New Haven |
| 2007 | Untitled, Marsh Botanical Gardens at Yale University, New Haven |
| 2006 | Tikkun Olam, Almquist Gallery, Winettka |
| 2006 | Fragments, Parts Unknown Gallery, Chicago |
| 2005 | Motion and Rest, BigTown Gallery, Burlington, VT |
| 2004 | Moment In Time, Cultural Center at PVB, Ponte Vedra Beach,Fl |
Selected group exhibitions
| | |
| --- | --- |
| 2018 | Art of the Northeast: Silvermine Gallery, CT |
| 2017 | Broad Stripes Bright Stars, Eli Center for Contemporary Art, CT |
| 2015 | This into That, Nave Gallery, Somerville, MA |
| 2014 | Art Basel Week. Miami River Art Fair, Dr.B Aust-Wegemund, Miami, FL |
| 2014 | Winchester Loft Commissions, Reynolds Fine Art Gallery, New Haven, CT |
| 2014 | Nothing Set In Stone, New Haven Museum, New Haven, CT |
| 2014 | Doll-Like, John Slade Ely House Gallery, New Haven, CT |
| 2013 | Paper New England, Artspace Gallery, Hartford, CT |
| 2012 | Local Builders: Anthology of CT Sculptors, A-Space Gallery, West Haven, CT |
| 2012 | Beyond Rodin, Rye Arts Center, Rye, New York, NY |
| 2010 | Works in Wood, New Hope Arts Gallery, New Hope, PA |
| 2008 | Gallery Artist, Richard Hughes Gallery, San Antonio, TX |
| 2007 | Untitled, Michael Zschoche Gallery, Newport Beach, CA |
| 2007 | Go Blue, Johnsonese Gallery, Chicago, IL |
| 2006 | UofM Alumni, Madron Gallery of American Art, Chicago, Best of Show Award, IL |
| 2006 | Untitled, Thomas Masters Gallery, Chicago, IL |
| 2005 | Group Show, 4Arts Gallery, Chicago, IL |
| 2003 | Tribute to D. Haddock, Political Library. Concord, NH |
| 2003 | Untitled, Columbia College Dance Center. Chicago, IL |
| 2002 | Flamenco, Art Institute of Chicago. Richard and Ellen Sander Gallery. Chicago, IL |
Selected public commissions
Carnegie Foundation, New York, NY
Subaru of America Headquarters, Camden, NJ
Sipi Metal Corp., Iron Pourer Statue, Chicago, IL
Gaelic American Club, Irish 1916 Rising Monument, Fairfield, CT
Randall Publishing, Tuscaloosa, AL
The Robert Wood Johnson Foundation, CA
Dr, James Still Memorial, Medford, NJ
Clio Memorial, New York, NY
City of Chicago, Gompers Park Statue, Chicago, IL
Corsair Apartments, Sculpture installation, New Haven, CT
IAWTA Award, Los Angeles, CA
Forest City Enterprises, Winchester Lofts. New Haven, CT
LaSalle Bank Mural Building. Gallery 37, Chicago, IL
The Rehabilitation Institute, Chicago,IL
City of Bridgeport, James O'Rourke and Louis H. Latimer Statues, Bridgeport, CT
James Kasler Statue, Momence, IL
Boys Club of St. Louis, St. Louis, MO
University of Illinois, Champaign, IL
Maravilla Hall, Lincolnshire, IL
Ele's Place, Lansing, MI
Edward Hospital Angel Memorial, Naperville, IL
Hendrix Memorial, St. Simons Island, GA
Selected private collections
Vjera and Ivan Decker, Zagreb, Croatia
Dr. Christian Mottet, Lausane, Switzerland
Dr. Ben and Lucy Machintosh-Lawrence, Auckland, New Zealand
Dr.Junko Murakami, Kobe, Japan
Dr. Adam Jones, British Columbia, Canada
Mr. and Mrs. Pierre Durchon, Paris, France
G. Rouwenhorst and B. Huang , New Haven, CT
Alexander Weismann, Kiel, Germany
Richard Zandy, New York, NY
Marc Vanoverstraeten, Brussels, Belgium
Giuseppe Festa, Caserta, Italy
Dr. Jilda Williams, Chicago, IL
Peter and Sandy Axilrod, New York, NY
Doris Haddock "Granny D", Dublin, NH
Zlabys Memorial, Lithuania
Alan and Jeannie Mayer, North Haven CT
Dr.Josiah Childs and Mary Wegner, Hamden, CT
Claudine Pignolet, Martigny, Switzerland
Joanne Sweeney, Ponte Vedra Beach, FL
Dr. E.Kostas-Polston, West Plains, MO
Christophe and Mannuel Emonet, Geneva, Switzerland
Mari Cruz Gómez Reñasco, Canary Islands, Spain
Dr. Robert Van Tassel, Minneapolis, MN
Dr. Doug Weibel, St.Louis, WI
David and Joanne Goldblum, New Haven, CT
Patrick McCoy, Chicago, IL
c.7 d. Wiman, Hamden, CT
Francois and Laetitia Gevers, Alsemberg, Belgium
Dr, Mark Connolly, River Forest, IL
Dr. Harry and Karly Spell, Oregon, IL
Paula Hiuser, Gilford, NH
Ms. Quimsom, Los Angeles, CA
David and Callie Tein, Woodbridge, CT
Bruce Navak, FL
Judee Gallagher, Chicago, IL
Jeffrey Breslow, Chciago, IL
Rick and Bic Callahan, Evanston, IL
Selected publications
| | |
| --- | --- |
| 04/20/18 | Mother Maker: featured artist |
| 04/16/18 | The Woven Tale Press: featured artist |
| 03/17/17 | New Haven Independent: About the travel ban |
| 06/16/16 | New Haven Independent |
| 06/20/16 | WTNH News |
| 06/20/16 | WNPR |
| 06/16/16 | Hartford Current |
| 06/29/16 | New Haven Register |
| 02/16/16 | New Haven Independent |
| 11/25/15 | New Haven Register |
| 5/27/15 | New Haven Register |
| 03/4/15 | The Daily Nutmeg |
| 04/01/15 | Yale Daily News |
| 05/16/14 | The Hartford Currant |
| 04/12/13 | New Haven Register |
| 01/29/13 | New Haven Independent |
| 03/29/13 | New Haven Independent |
| 05/06/14 | New Haven Independent |
| 10/10/12 | The Arts Paper |
| 04/08/12 | New York Times |
| 12/19/11 | New York Times |
| 05/02/11 | New City Art |
| 01/03/11 | New Haven Register |
| 01/31/11 | New Haven Independent |
| 08/21/10 | Connecticut Post |
| 08/27/10 | Fairfield Patch |
| 01/11/10 | New City Art, Chicago |
| 06/11/09 | Connecticut Post |
| 10/31/08 | Prompt Magazine |
| 04/16/08 | The Princeton Packet, New Jersey. Tempo feature article |
| 03/30/08 | Nice-Martin, Nice, France |
| 12/12/07 | Hartford Courant |
| 09/12/08 | New Haven Register |
| 08/09/08 | New Haven Register |
| 03/27/08 | Yale University Daily News |
| 01/25/08 | New Haven Register |
| 12/05/07 | New Haven Register |
| 12/05/07 | Yale University Daily News |
| 12/03/07 | Yale University Daily News |
| 12/01/07 | New Haven Register (front page) |
| 03/01/07 | Life By Design Magazine. Feature Article |
| 12/14/07 | Chicago Tribune |
| 10/01/05 | Kalamazoo Gazette |
| 03/01/04 | Ponte Vedra Recorder |
| 08/01/03 | Today's Chicago Woman Magazine. Woman About Town |
| 04/01/03 | The Collegian |
| 02/28/03 | The Chicago reader |
| 02/01/02 | Fine Arts Ceramics. feature article. |
| 11/01/02 | Sculpture Journal. feature article |
| 09/02/02 | The Chicago Tribune. On the Job |
| 05/01/02 | The Art Institute of Chicago News and Events Magazine |
| 09/05/01 | The Chicago Reader |
| 12/01/99 | The Chicago reader |
| 06/01/00 | New York Times Magazine |
| 06/01/00 | Chicago Magazine |
Demonstrations, workshops, lectures
Curator of the show Stories From Near and Far: Refugee Artists in New Haven, New Haven 06/2016
The Metropolitan Museum of Art, Artist Day, NYC, New York 04/14
Foundation Pierre Gianadda, Martigny, Switzerland
Yale Theater Department, Adam Mickiewicz Institute Warsaw, New Haven
British Museum at Yale University, Lecture and tour 4/11
WGN Morning News. Channel 9. 4/28 and 5/15/2003
The Art Institute of Chicago Museum (x 4)
Chicago Symphony Orchestra, Blue Note Ball (x 2)
National Center on Poverty Law
Lizzaro Museum, Elmhurst, IL
CT Department of Mental Heath
Trenton Artist Workshop Assoc., April, 25-27, 2008
Integrated Refugee and Immigrant Services, New Haven, CT
Teaching
The School of the Art Institute of Chicago
Palette and Chisel Academy for the Fine Arts, Chicago, IL
Gallery 37, The City of Chicago
Creative Arts Workshop, New Haven CT
Eli Whitney Museum, Hamden CT
Education
| | |
| --- | --- |
| 1995-1993 | The University of Michigan. B.A. in Cultural Anthropology and Sculpture |
Grants and Awards
| | |
| --- | --- |
| 2018 | Carole Eisnor Sculpture Award: Art of the Northeast |
| 2011- 2018 | Artist-in-residence: Eli Whitney Museum. |
| 2015 | Arts Council Award |
| 2015 | Studio Tour by curator, Olu Oguibe, New Haven |
| 2014 | Studio Tour by art historian, Rena Tobey, New Haven |
| 2014 | T.A.P.S Award, New Haven Public Schools |
| 2013 | Studio Tour by art historian, Anne Higonnet, New Haven |
| 2010 | Women's Caucus for Art San Diego, Best In Show |
| 2010 | Peace by Peace/Yale Medical School, 1st Prize |
| 2010 | Integrated Refugee and Immigrant Services, Person of the Year |
| 2008 | The Puffin Foundation Grant |